Reasons to Plant a Crabapple Tree in your Garden
---
There are numerous reasons to consider planting a crabapple tree. Their ability to help pollinate other fruit trees, the tasty fruit, and their beautiful blooms make them a great asset for your yard or orchard.
Planting a crab apple tree
When people look for fruit trees for a small garden, they think of the standard grocery store fruit: Gala apples, Italian Prune plums, freestone Peaches, and a few other familiar fruit.
Here are five reasons crab apples should be in your garden plans. (And yes, there is no consensus on how to spell crabapple.)
This post may contain affiliate links; I'll earn a small commission if you choose to make a purchase.
1. Crabapples are decorative
My crabapple trees are the first trees to blossom in my garden. They blossom longer than any of my other fruit trees.
This gives me a full 3 to 4 weeks of flowering, at a time when the rest of my garden is just beginning to wake up.
In late summer the red and yellow blushed fruit hangs in bundles from the branches, stunning against the August greenness of the rest of the garden.
The leaves hang on till the first killing frost and then change color quickly for a stunning display of gold and yellow.
2. Crabapples are early bee food
In spring my crabapple trees are abuzz with bumblebees and mason bees. The blossoms of crabapples are a banquet for both native pollinators and honey bees.
Since the flowering season for crabapples is earlier and longer, it gives those stressed pollinators a reliable food source before berries and other fruit start to leaf out.
[And be sure to consider these 10 perennials to attract bees.]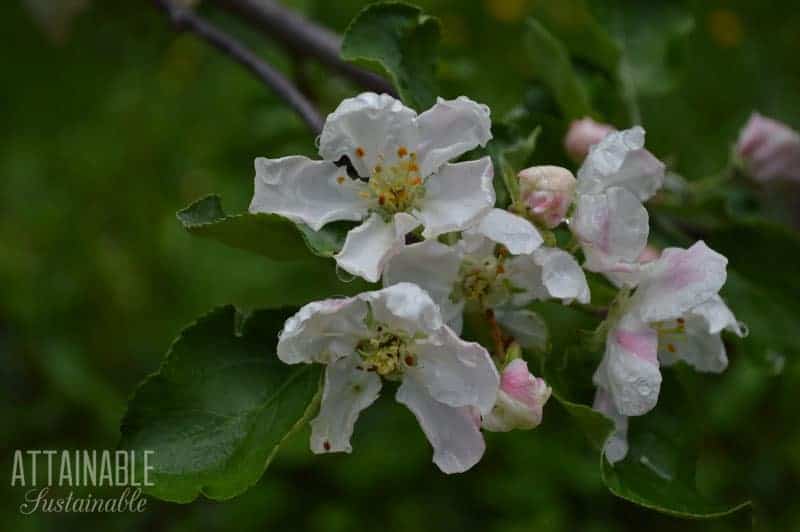 3. Crab apple trees pollinate other apple varieties
Apple trees require a pollinator of another compatible apple variety to set fruit.
Pollen from a crabapple tree will pollinate most apple trees provided that they blossom at the same time.
Crab apples are so effective at pollinating other apple varieties that old time orchardists would take branches of crab apples in bloom and put them in a bucket of water in the middle of their apple orchards.
The bees would visit the crabapple blossoms and then visit the apple blossoms as they opened on the apple trees, improving the fruit set.
When you are planting apple trees in a new garden, plant a crabapple within 50 feet of your other apple trees to ensure good pollination.
4. A crabapple tree doesn't take up much space
Crabapples can be huge, sprawling trees, or small garden trees depending on the rootstock chosen.
When you are considering a crabapple for your small garden, look for one grafted onto dwarf rootstock. Crabapples on dwarf rootstock don't take up much space.
Although these can still grow up to 12 feet tall, they can be easily managed in a small garden, with judicious pruning.